Gabby's Hot Topics: Driver's License by Olivia Rodrigo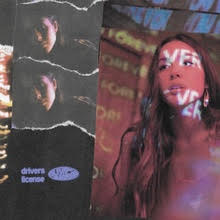 Olivia Rodrigo is best known for her Disney Channel shows, "Bizaardvark" and "High School Musical: The Musical: The series." Recently, she has been getting big press for new debut single "Driver's License." It is a heartbreak anthem that will make you want to get into your car and drive around your ex's home. Rodrigo's 2000s nostalgic, piano-assisted song builds slowly as she tells the story about how she finally got her driver's license. However, the monumental occasion was ruined when she was supposed to celebrate this accomplishment with a certain someone who broke her heart. Instead, she was driving through the suburbs trying to make sense of the breakup, "Guess you didn't mean what you wrote in the song about me / cause you said forever, now I drive alone pass your street." Its easy to read this line from the song as Rodrigo silky vibrant voice makes you think of your own adolescence laid out ahead of you. 
Recently "Driver's License" has gone viral on Tiktok for the alleged drama/theories behind the song, so many people think the certain someone Olivia is talking about is her costar Joshua Bassett. They have been rumored of dating since the start of the High School Musical series, but they have not confirmed anything because of the age gap. Olivia is only 17 while Joshua is 20, but surprisingly they had amazing chemistry on and off screen. He even taught her how to drive to get her prepared for her license. Rumor has it that Joshua moved to a more age-appropriate relationship with another Disney darling, Sabrina Carpenter. It seems Olivia wrote a lyric for her too, talking about how jealous and insecure she is of her: "you're probably with blonde girl/ who always made me doubt/ she so much older than me/ she's everything I'm insecure about."  The original line for blonde was brunette girl, which made everybody theorize on why she changed this certain line.
Critics have compared Olivia's vocal range and inspiration of break up songs to Taylor Swift's early hits on breakup (Taylor Swift was known for her breakup songs and exposing her ex boyfriends). Taylor congratulated Olivia on her song, which was a sweet moment since Olivia is a big fan of Taylor Swift. It's only been raving reviews on her debut single, as everyone who has listened to it either gets into their feelings about a breakup that they have gone through or just vibe with it. 
"Driver's License" creates this illusion of nostalgia from first love and first heartbreak. It has this undeniable appeal when you listen to the first lines in the song. You immediately get hooked to the story, the drama, and emotions all in one. The fact Olivia is only 17 and has experienced this type of heartbreak and wrote a song about it that went #1 on billboard top 100 already tells you what type of talent she has. I can only see big things happening for her in the future and I as many others can't wait to see what she comes up with next.