Gabby's Hot Topics: Lucha Libre Ice Cream & Churros
I stumbled across Lucha Libre Ice Cream & Churros via TikTok and found out that it is on West Market Street. When I saw the video for this place, it immediately caught my attention: churros in ice cream, churros in milkshakes, and popsicles in the ice cream with a churro on the side. This place is very interesting especially if you're a foody like myself who loves to try new things, and there's a variety of different things if you're not a churro type of person.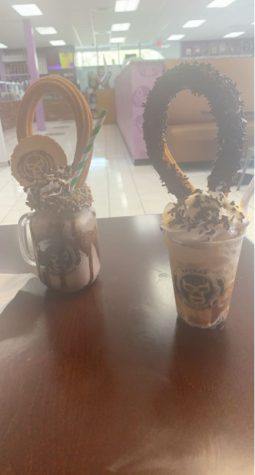 When I visited the shop for the first time, it caught my eye because of the culture and the fact the shop started as a family business (and still is) and became this franchise for families to enjoy being around one another eating ice cream with churros in them. There are a variety of products they have that are not just churros and ice cream, including wrestler masks. They have them in many colors: some with glitter while others have a crazy design on them. I almost wanted to buy one for myself. 
The first thing that I got was a Dr. Cajeta from the Dynamic Duo list that consists of "ice cream and a signature churro loop with whipped cream." The description of the Dr. Cajeta is that it's "made with Dulce de Leche ice cream. The churro loop is covered with the sweetness of Dulce de Leche and pecans *be aware of allergens*." This was so good. I really tasted the caramel and pecan, and it was definitely on the sweet side of things. The only thing disappointing about the snack was that the churro was hard and crunchy. My expectation was high on the fact that I thought the churro would be on the softer side. Other than that, the ice cream was worthy of a chief's kiss. I would rate this a 9.5 out of 10.
My mom got one of the smackdowns that consist of a "milkshake with a signature churro loop." She got the Nutella. The description of the milkshake is "the best seller milkshake, made with Nutella, ice cream, and churro covered with white Belgium chocolate and then covered with sugar, to finally be torched to perfection. It is topped with whipped cream and crowned with a mini Nutella jar." I know reading this makes you feel hungry and makes you want to try all of the types of products they have. I know that I want to go back and try some foods that I was hesitant to try the first time.
If you decide to go to Lucha Libre, try to go early because this place gets crazy busy later in the day. There's a big line outside and because of COVID there's minimum space for everyone to wait inside. Luckily for my mom and I, we got there early and left as soon as the line started building up. Just know that the wait is worth it and you won't be wasting your money.