Where Can You Find the Best Italian Food in Greensboro?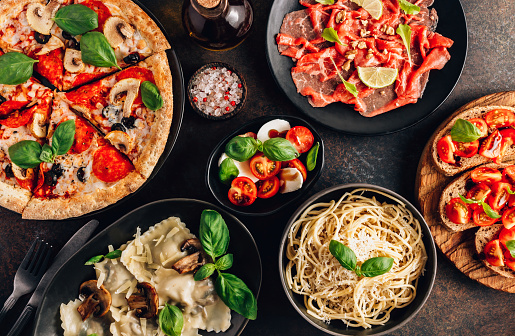 Being one of the most common cuisines in the world, Italian food is a great choice for a nice dinner. In Greensboro, there are several Italian restaurants. Three of the most popular ones are Bravo! Italian Kitchen, Cugino Forno, and Osteria Italian Restaurant. All of these restaurants are fairly expensive when compared to other local restaurants, as a typical dinner entree at each restaurant costs at least $20. However, the atmospheres, particularly the atmospheres of Bravo! and Osteria, are very nice. While they cannot be compared to Ruth's Chris, one of the fanciest and most expensive restaurants in Greensboro, these three restaurants are much nicer than the average eatery in our city.
First, let's take a look at the locations of each restaurant. Being in Friendly Center, Bravo! is perfect for a night out because there are plenty of shops and lights decorating the area. On the other hand, Osteria and Cugino Forno are more isolated. Cugino Forno is located in Revolution Mills while Osteria is closer to Page.
Cugino Forno only has pizza, whereas the other two restaurants serve more entrees such as pasta dishes. Osteria's strozzapreti and the Pasta Bravo from Bravo! are some of the best pastas from the Triad. The strozzapreti is a red sauce with Osteria's homemade pasta, and the Pasta Bravo is a cream sauce with mushrooms and chicken. There are plenty of other options if you do not like pasta. For instance, Bravo! serves lobster bisque, grilled salmon salad, and steak, and Osteria serves a variety of meats and salads.
There are pros and cons to each restaurant. Bravo! and Osteria are definitely the top restaurants to get pasta in Greensboro, and Cugino Forno is a great place to buy pizza. Personally, I like Cugino Forno's pizza but would consider it average. However, many people are very fond of their pizza, so it's a good option if you are looking to try something new. Any of these restaurants will provide you with a delicious meal and above-average atmosphere, but my personal favorite is Osteria. While it is the most expensive, it is by far the coziest of the three places. Their handmade pasta is served al dente, or firm, in the authentic Italian way, and that makes the Osteria experience particularly special. However, I definitely recommend trying any of these three restaurants in hopes that you will find the best Italian food in Greensboro!
Photo Credits: Unsplash