Roberton's Reportings: 5/3 – 5/9
Welcome back to another week of Robertson's Reportings! The 145th Kentucky Derby took place on May 4. Maximum Security was the first horse to cross the finish line in first but was disqualified. Country House, the horse that reached the finish line second, was declared the winner after over fifteen minutes of review. Maximum Security made a move in the beginning of the race that the stewards found to be a violation of a section in the rules that states "a leading horse or any other horse in a race swerves or is ridden to either side so as to interfere with, intimidate, or impede any other horse or jockey." Country House, an underdog, had 65-1 odds but came out as the winner. Luckily, despite the slippery ground, all of the horses stayed upright and safe.
Georgia Governor Brian Kemp signed the "heartbeat" bill on Tuesday, May 7. Angry groups who support abortions have threatened to sue the state once the bill is signed into a law. The bill bans abortions after a heartbeat is detected, approximately six weeks into the pregnancy. Governor Kemp was confronted by Actress Alyssa Milano who marched into his office with a letter stating arguments against the bill. One of the representatives in the building questioned her by asking if she voted in Georgia, and she said that she did not but claimed that "people that work on my (her) crews" did vote. After the argument, the representative and actress shook hands despite their conflict.
The second egging of an Australian politician of the year has taken place, only the attempt at cracking the egg over the prime minister's head was a fail. A young protester came to one of Scott Morrison's campaign events and tried to crack an egg over his head, but the egg bounced off. In an attempt to tackle the protestor, security bumped into a 70 year old woman who had just gotten surgery. Fortunately, the woman came out unharmed. The protestor who used the egg was charged with drug possession and common assault and will appear in court on May 27. Earlier in the year, Australian Senator Fraser Anning was hit with an egg at a media event by a teenager.
On May 6, Tiger Woods was awarded the highest civilian award: The Medal of Freedom. Three weeks ago, Golfer Tiger Woods won the Masters, one of the most well-known and prestigious golf tournaments. Woods has had many ups and downs in his athletic career and personal life, but he brought it all back in 2019. President Trump stated, "Congratulations on your amazing comeback and on your amazing life."
See you next time on Robertson's Reportings, coverage you can count on!
About the Writer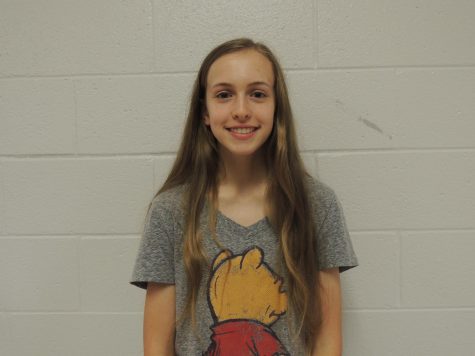 Sophia Robertson, Editor-in-Chief
I am a junior and returning veteran of the Pages By Page staff. One day, I hope to pursue a career in writing and become a published author!