Robertson's Reportings: 9/20 – 9/26
Hang on for a minute...we're trying to find some more stories you might like.
Welcome to another week of Robertson's Reportings! Recently, House Democrats have pushed even more for the impeachment of President Donald Trump than ever before. A whistleblower suggested that he spoke with President Volodymyr Zelensky of Ukraine about Former Vice President Joe Biden, Biden's son, Hunter, and a scandal that the two men were allegedly involved in years ago. Since Joe Biden is running against our current president in the 2020 election, President Trump is being investigated to determine whether he pressured a foreign country into reopening a criminal probe relating to the Bidens in order to knock out his competition.
Hundreds of thousands of worldwide travelers were stranded in airports when Thomas Cook, a British travel agency, went bankrupt. After years of struggling due to competition, the company collapsed. Immediately, all flights were canceled and employees were laid off, causing frustration and shock to the company's workers and customers. This led to a chain of unfortunate events. In Hammamet, customers were unable to get on flights and "were locked into one hotel and 'being held hostage' as the hotel demanded they pay extra, for fear that Thomas Cook would not pay its debts."
Certain areas in Western Europe's highest mountain range have been forced to evacuate after experts warn that parts of the Mont Blanc glacier are on the verge of collapse. There has been a significant increase in the rate of melting over the past few years and even months. Scientists say that climate change is the leading cause, and the Italian Prime Minister is at the United Nations climate action summit this week. At this summit, countries come together to discuss the issue. However, the meeting has caused conflict, particularly with Greta Thurnberg, a sixteen year old climate change activist from Sweden. Thurnberg led a protest last year and has come back this year but on a bigger level. She gave a speech about her beliefs on climate change and how not taking action will "lead to the end of our civilization as we know it." Many people support her while others are baffled at the ideas of Thurnberg and the way she went about saying them.
Months after the college admissions scandal was revealed, Felicity Huffman and three others involved in the incident have been sentenced to time in prison. Many families were accused of paying people to take entrance exams and paying coaches to get athletic scholarships that were undeserved, so legal actions have been taken in the last few months to see who was involved and what the punishments would be. Huffman, an actress who thousands of dollars to get her daughter's SAT score boosted, only received 14 days but also has to pay a $30,000 fee and participate in community service. Others involved in the scandal are still being investigated.
See you next time on Robertson's Reportings, coverage you can count on!
About the Writer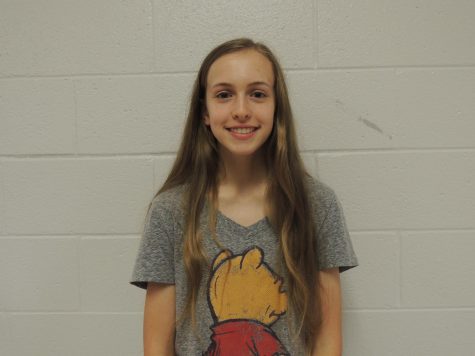 Sophia Robertson, Editor-in-Chief
I am a sophomore and returning veteran of the Pages By Page staff. One day, I hope to pursue a career in writing and become a published author!