Mr. Naglee Takes on Year Two at Page
Hang on for a minute...we're trying to find some more stories you might like.
As the school year kicks off, parents, students, and staff members have been getting back into their routines. Clubs and sports activities have begun, and classes are now in session. In a one-on-one interview with returning Page High School Principal Erik Naglee, some of his plans for this year were revealed. Mr. Naglee claimed that Page was quiet and even boring over the summer, so he was ready for school to get back in session. He said that he is looking forward to the year and believed that the first few weeks went very smoothly.
Last year, the administrators came together and remodeled the cafeteria. When asked if Mr. Naglee has any big plans for physically improving the school this year, he responded with multiple plans that have already been taken into action. Firstly, he explained the new signage around the school that was recently put into place. He also emphasized the hallway by the main entrance where pictures have been used to "highlight great students and great staff." In this area, pictures of last year's clubs have been put up, along with images of faculty members who have earned master's or doctoral degrees. Other new additions to the school include the decals outside of the auditorium demonstrating Pirate Pride.
After being asked if he learned any lessons from his first year at Page, Principal Naglee stated that there are "always different things you can learn." He has learned lessons from experiences where things do not go smoothly, and he has also learned to take advantage of opportunities to find ideas that will benefit students. Due to the positive feedback from last year, Mr. Naglee plans to distribute quarterly honor roll certificates once again in order to reward students for their hard work. He hopes that the Page High School community continues to do their best and grow stronger. As we go into the second school year with Mr. Naglee as principal, don't forget to dream big in all that you do!
About the Writer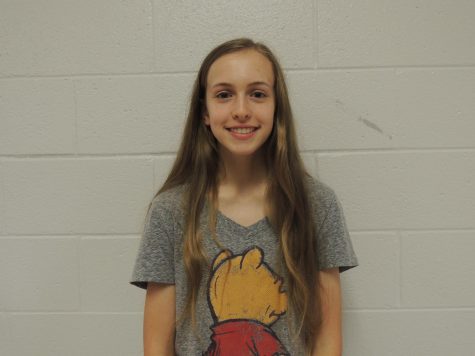 Sophia Robertson, Editor-in-Chief
I am a sophomore and returning veteran of the Pages By Page staff. One day, I hope to pursue a career in writing and become a published author!