Robertson's Reportings: 10/11 – 10/17
Welcome to another week of Robertson's Reportings! This week, Typhoon Hagibis attacked Japan, flooding hundreds of homes and killing more than 70 people. Hundreds more people were injured, and some are still missing. A parade celebrating the new emperor's rise to power was postponed due to the devastating storm. The government has $6.5 million of money set aside to spend on food and resources necessary for the evacuees. Currently, the damage done is being surveyed.
Two female astronauts, Christina Koch and Jessica Meir, made history when they launched the first all female spacewalk. This walk, postponed from March due to improper space suits, will last approximately six hours after the initial launch on Friday morning. The women are working towards replacing a failing battery unit. This is the seventh spacewalk conducted by NASA already this year.
Prime Minister Abiy Ahmed Ali was awarded the Nobel Peace Prize for work in his country, Ethiopia, and Eritrea, a neighboring country. The prime minister ended a border conflict lasting two decades between the two countries. As the youngest leader in Africa and 99th recipient of the internationally recognized award, Abiy has shown his dedication to resolving the conflict and promoting peace in Africa since he came into office last year.
During a show in Las Vegas, Lady Gaga took a tumble shocking her many fans. As she invited someone onstage and jumped into his arms, the fan dropped her when his footing gave out. Both the singer and the fan fell off the stage, so security rushed to the situation. Lady Gaga was fine, but the fan came out in tears from being humiliated. Once everyone was up and moving again, the show safely went on.
For the first time in 500 years, a California fault line has shown signs of movement after a series of earthquakes. A new system, ShakeAlert, has been developed to alert people of earthquakes before they can actually be felt. This invention is important to many Californians because the major fault line, the Garlock Fault, can lead to earthquakes with a magnitude of eight. Earthquakes with this high of a magnitude are typically seen only once every five to ten years.
See you next time on Robertson's Reportings, coverage you can count on!
About the Writer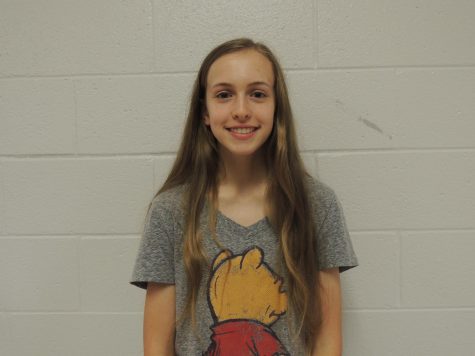 Sophia Robertson, Editor-in-Chief
I am a sophomore and returning veteran of the Pages By Page staff. One day, I hope to pursue a career in writing and become a published author!