Robertson's Reportings: 1/10 – 1/16
Welcome back to Robertson's Reportings! The Golden Globes took place at the beginning of the year. This annual awards event recognized movies including Rocketman and Joker. Ellen DeGeneres, Tom Hanks, and Brad Pitt were just a few recipients of the many awards distributed. The show was hosted by Ricky Gervais, but directors have announced that Tiny Fey and Amy Poehler will host the show once again in 2021.
A volcano, Taal, in the Philippines spewed lava nearly half of a mile in the air earlier this week. Over 53,000 residents have been forced to evacuate. Taal is the most active volcano in the Philippines and has been recorded to have erupted 34 times. In 1911, 1,300 people were killed by this same volcano. It sits in the center of Volcano Island on Lake Taal. On Thursday, the volcano began to calm down. However, the situation is still dangerous to both locals and tourists.
Prince Harry and his wife Meghan Markle have announced that they will be stepping away from their senior royal duties. They will spend most of their time in Canada, instead of at Prince Harry's castle in England. However, some of their time will still be spent in Britain. After breaking the news to the Queen, Markle reportedly flew to Vancouver Island with no intent on returning back to the United Kingdom. Controversy is surrounding the issue as to if the two ex-royals were "thrown out" or simply "stepped down." Many past sources have shown Queen Elizabeth's disapproval for Duchess Meghan Markle.
The Democratic debate in Iowa resulted in conflict between two of the major candidates:  Senator Elizabeth Warren and Senator Bernie Sanders. After the debate, Warren stated, "I think you called me a liar on national TV." In response, Sanders said, "You called me a liar." Cameras from the live debate caught footage of Warren refusing to give Sanders a handshake. All of this tension was due to a claim that Warren made on stage. While Warren claimed that Sanders said a woman could never become president, Sanders denied making any statement about gender and politics.
See you next time on Robertson's Reportings, coverage you can count on!
About the Writer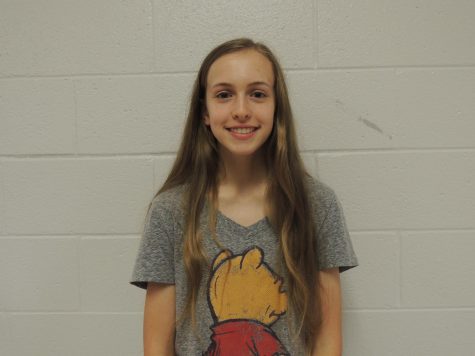 Sophia Robertson, Editor-in-Chief
I am a junior and returning veteran of the Pages By Page staff. One day, I hope to pursue a career in writing and become a published author!