Page Students Given the Opportunity to Vote Early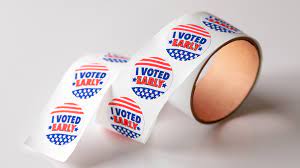 On May 17, North Carolina will hold primary elections in which voters can cast ballots to determine party nominees for the general election in November. Page students who turn 18 by November 7 were given the opportunity on April 28 to vote early; with necessary documents for identification, they were shuttled to Craft Recreation Center to cast their ballot.
Races on the ballot include the U.S. House of Representatives, U.S. Senate, N.C. General Assembly, N.C. Supreme Court, and N.C. Court of Appeals. To become the nominee, the candidate must win by at least 30% of the vote plus one. If no candidate reaches this total, a second primary will be held on July 26. 
The N.C. District 11 seat of Congress is currently held by Republican Madison Cawthorn, and he is currently running for re-election. This is one of the most talked about races; there are seven other Republican candidates and six Democratic candidates. Thom Tillis and Richmond Burr, both Republicans, are the current N.C. senators. However, Burr declared that his last year as senator would be 2022, so at least one new N.C. senator will be elected. There are a number of candidates running to take Burr's place including former N.C. Governor Pat McCrory.
Several first period classes were empty on April 28 because many students were at the voting center, casting their ballots and receiving an "I Voted" sticker. While voting is encouraged, it's important to be an informed voter by researching the candidates beforehand. Here are a few ways to research candidates before heading to the polls:
Investigate how the candidates feel about issues that are meaningful to you, whether that is climate change, education, or any other subject. USA.gov is a reliable resource for voting information.

Review their voting record because how candidates vote for issues in the past can be a great indicator of how they will vote in the future.

Just because you are a Republican does not mean that you should only vote for the Republican candidates. Similarly, just because you are a Democrat does not mean that you should only vote for the Democratic candidates. With that being said, keep an open mind as you head to the polls!
Photo Credits: NCSBE