Brittney Griner gets released from Russian penitentiary in prisoner swap with Viktor Bout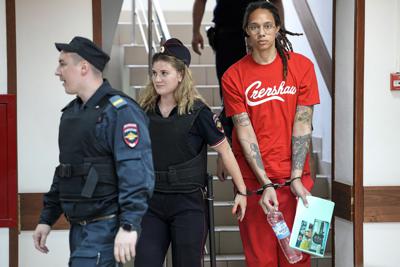 WNBA basketball star, Brittney Griner, has just been released on December 8th after being held under Russian custody for 10 months. The athlete is finally getting to fly home after prison swap with Viktor Bout, a Russian arms dealer.  
Griner played for years in the off-season for a Russian women's basketball team, until she was arrested on drug-smuggling charges at an airport in the Moscow region this past February 17th. The Russian authorities accused her of carrying hashish oil in her luggage. She was later found guilty of drug possession and smuggling.  
Viktor Bout was a Russian arms dealer that was being held in an Illinois prison. He is known as the "Merchant of death". It was said that he had been plotting to kill Americans. He was arrested in Thailand in 2008 and extradited to the US in 2010.  
President Biden said efforts to bring Griner home took, "painstaking and intense negotiations". The Biden administration negotiated her release from a Russian penal colony in exchange for Viktor Bout. The final deal took 48 hours to come together, senior US administration said, launching the process of moving Griner from the penal colony where she was serving a lengthy sentence. Biden gave final approval for the prisoner swap freeing Griner over the past week, an official familiar with the matter said.  
Griner's family was beyond grateful for the efforts and determination of the Biden administration. They thanked him this past Thursday in a statement. They also expressed gratitude for the out-flowing amount of public support they've received. "We sincerely thank you all for the kind words, thoughts and prayers – including Paul and the Whelan family who have been generous with their support for Brittney and our family during what we know is a heartbreaking time," the statement said. Not only was Griner's family blessed to have her home but Brittany Griner herself couldn't have been happier to be back on US soil. US officials who met Griner said she was "in good spirits" and "incredibly gracious," National Security Council spokesperson John Kirby told CNN.  
 This whole decision has been met with both praise and backlash, as many aren't as happy as others about the situation. As many people are grateful to have the basketball player finally home, others think that the whole trade between Griner and Bout was both "ridiculous" and "dangerous" of the US government. Many have voiced how they believe that the swap was not smart, especially since the deal requires freeing a man who was supposedly plotting to kill Americans. However, others have expressed how excited they are, considering they believed the whole conviction in the first place was unnecessary.  
Griner wasn't the only American locked up in a Russian Petitionary. Paul Whelan has been detained in Russia for nearly 4 years on espionage charges. Whelan expressed in an exclusive phone call from the penal colony where he is being held in a remote part of Russia that he was "disappointed" the Biden administration has not done more to secure his release. Whelan said he was happy that Griner was released, but that he "was led to believe that things were moving in the right direction, and that the governments were negotiating and that something would happen fairly soon."  
"I don't understand why I'm still sitting here," he said. 
The Biden administration stated that they put forth their best efforts to get both Griner and Whelan out but that, "It was a choice to get Brittney or nothing," a US official said. The official says that was a "difficult decision" for Biden, but again, one he felt he had to make.  
Whelan's family expressed happiness at the news that Griner is on her way home but said Thursday they are "devastated" that he was left behind. The Griner family have conveyed their condolences toward the Whelan family and that they will continue praying for his release.