Girls Golf Teed it up at Conference and Regionals
Hang on for a minute...we're trying to find some more stories you might like.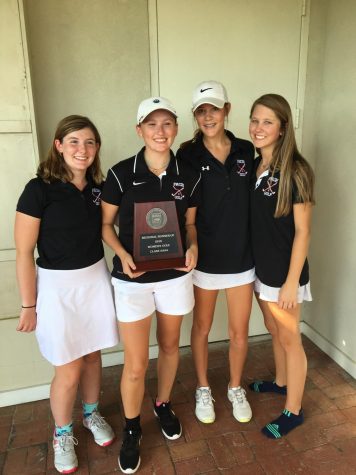 As the Page girls walked off Bryan Park golf course Monday, October 1, spirits were high with another conference championship win. With scores of 75, 79, and 80, the Page Pirates won with a heavy lead against the other teams. Following the match, Emelia Pack was awarded Metro Conference Player of the Year, with a scoring average of 34.8 for the season. Harper Shepard came in second in conference with a 35.6, and Tatum Neff with a 36.4 in third.  Caroline Isaacson from Ragsdale came in fourth with a 38.2 and Kate Hunter  rounded out the top five with a 43.2. "I'm so excited we won conference, and am happy we are going to regionals as a team again this year," says Ava Besecker.
Well, the team teed it up on Monday, October 15, for the regional tournament in Pinehurst, North Carolina. With tee times starting early, it turned to be a long day for the Pirates, with many high and low points. Emelia Pack played well, leading the team with a 75. Tatum Neff followed with an 81, and Harper Shepherd shot 84. Although it wasn't the Pirates best performance, the girls were able to come in second with a total of 240. Pinecrest, the 2018 Midwest regional winner, totaled a 214. This was one of Page's better finishes at regionals, but with the strides made during the season the team was still expecting a better outcome. "I am disappointed the girls didn't play to the ability they can, but they know what needs to be worked on this week and I am still confident for next Monday and Tuesday," says Coach Jones on what's to come at states.