Women's Golf Season Ends With Conference Game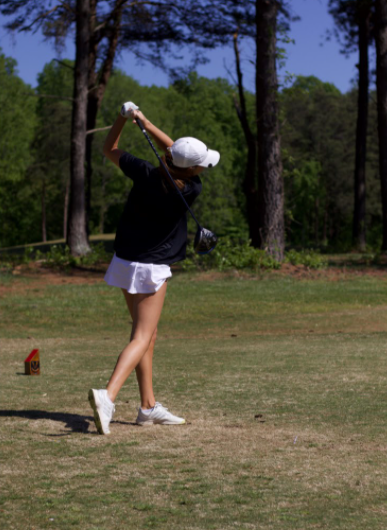 The women's golf team at Page began the season with a great start, defeating Grimsley with a score of 152 against 178. The team is dominated by sophomores, but there is a junior and two seniors, Kate Hunter and Harper Shepherd who have been key players to the women's golf team for most of their high school careers. 
In their second game, the team beat Ragsdale, scoring a 141. Page came in second place, losing to Northwest but beating Ragsdale and High Point Central in two Metro 4A Conference matches.  On April 15, the team played R.J. Reynolds with a score of 141. In another Metro 4A Conference game, Page beat Grimsley and Ragsdale. Page went head to head against Northwest Guilford in two more games, putting up a good fight but ultimately being defeated. The score in the first game was 127-136 while the second game was 123-140. Their final game took place on April 28 and was a Metro 4A Conference Match against Northwest and Grimsely. While Page did not defeat Northwest, a win against Grimsley is definitely something to celebrate! Overall, the women's team had a strong season, winning three games, losing two, and coming in first or second place in every conference match.