Men's Soccer Team Kicks Off Season With 4 Wins, 7 Losses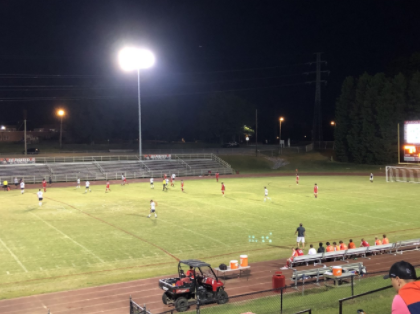 The men's varsity soccer team began their season on August 18, playing their first game against Reagan. This was a tough defeat, as Page only scored one goal while Reagan scored four. The following day, Page lost to Northern. However, Page dominated Bishop McGuinness, as the Pirates scored six points and only let their opponent score once. The next four games were losses, as the team was defeated by Pinecrest, Reagan, Mount Tabor, and Southwest. Luckily, the Pirates went on a three game win streak. Playing at Ragsdale, Page scored three times, not allowing their opponent to score once. The next week, Page scored six points while Western only scored once. 
This week, Page played Northern. Each team scored one point during the normal 80 minutes, so the game went into 20 minutes of overtime. Page scored one point in overtime, winning the game. Unfortunately, the team lost their most recent game against Northwest. In this game, Northwest scored five points while Page only scored one. 
The next game is at Grimsley at 7:00 on September 30, so make sure to support our team! Tickets cost $7, but I have confidence that it will be worth the money to see Page defeat the Grimsley soccer team.