May Students of the Month
Hang on for a minute...we're trying to find some more stories you might like.
The male student of the month for May is Carter Payne! Carter is very involved in Young Life as a senior leader and is a member of the varsity baseball team. Being incredibly active in both of his commitments, Carter says it's difficult to find a balance between school and sports. In order to complete his tasks he said, "While it's very difficult to manage getting school work done with a sport, I make sure to try my best to manage my time and prioritize what needs to get done." Being the pitcher for baseball is a full time commitment for Carter, so between school and sports he does not currently have a job. Carter loves helping his community, especially in areas in which he is very passionate. Carter explained, "I'd say I devote most of my time towards volunteering at Young Life, whether it is campaigners every Wednesday morning, monthly meetings, or at camps. Being a Senior Leader has been a big responsibility for me, but I've loved being a part of it and helping out whenever I can get the chance." Carter takes on a leadership role as a senior leader for Young Life, making this club his top priority. While Carter is undecided, he has big plans for his future. He says, "After high school I plan to get an education in business and hopefully play baseball competitively, but most importantly, enjoy my line of work for the rest of my life." Congratulations, Carter for all of your admirable accomplishments for Page! We look forward to seeing your success in the future!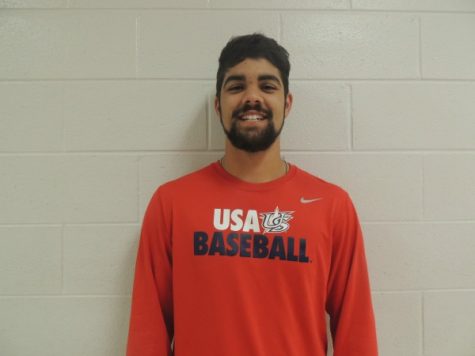 The female student of the month for May is Namita Patel! Namita has an incredible eye for art, as a member of the yearbook committee, as well as being sure to maintain a great GPA! Between balancing high school with extracurricular activities, Namita stays busy. In order to make sure she stays on task when she's busy, she said, "I try to manage my time and mentally plan out the remainder of my day when I get home from school, that way I can stay on task and not get sidetracked." Namita is not currently employed; her studies are a full time job for her! Namita stays connected with the community by volunteering with Habitat for Humanity. In addition to yearbook, Namita is involved in several other clubs, she explains, "I am a part of Pep Club, National Honor Society, and Quill and Scroll Honor Society." Namita recently won 2nd place in the Josten Photo Competition under the category of Illustration with her piece, "Unconscious". Her image portrays a shadowy figure controlling a girl, leaving the viewers unsure of what will happen next. Her capturing truly reveals her talent and creativity leaving all astonished. Namita has big plans for her future after she graduates in less than eighty days. She said, "I am attending University of North Carolina this fall and I am planning to go into the pre medical field." Congratulations, Namita! Good Luck on your endeavors as a Tarheel!!