Successful Night for Open Mic!
Hang on for a minute...we're trying to find some more stories you might like.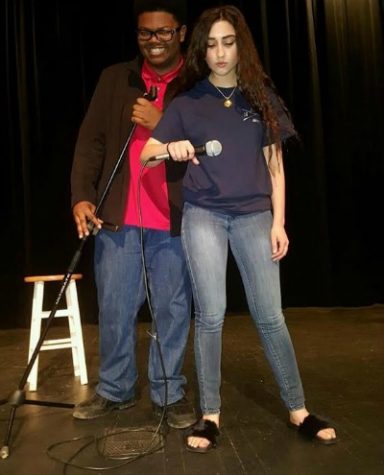 Page High School's Poetic Voices' open mic was a great success, thanks to the Poetic Voices club led by Mr. Conte. Arthur Jones, a junior officer of the club elaborated on his time at the event. He said, "Open Mic Night was one of the greatest nights of my life. It was such an honor to be a host and see so many families see their talented children on the stage the smiles on their faces as they watched. The turnout was outstanding and I'm excited to see how next year turns out!" For those who missed out on going, many were able to see the talent via social media such as snapchat and Instagram, so hopefully more people will want to participate and show up to the show next year! There were several musical performances, both vocally and instrumentally, as well as students showcasing their poems and pieces of art they have written. There were 14 performances in total. Most of the singers sang acapella or with another student playing an instrument alongside of them. Mr. Conte, the club advisor reflected, "This Open Mic was less about showcasing talent and garnering attention for future stars and more of an opportunity for page students to share with the community some issues that they want to help society address, life events that will shape the people they become, and songs that spoke to their true nature. Each performance was ostensibly meaningful to the performer themselves. I'd say the club and I were very satisfied with the evening!" Many people had wonderful things about the event, saying, "It was amazing" and "I never knew there was so much talent at this school!" This experience not only showcased the talented students here at Page, but unified the student body as we all came together to watch the show. Arthur also said, "It was a big night to remember and I was grateful for all the people who showed up! I was ecstatic with the results and listening to the great talent of those who were brave enough to show out on stage with so much confidence!" Mr. Conte also revealed that "due to our amount of success we are hoping to make Open Mic night a once-a-semester event! The Poetic Voices club hopes to spread the word and grow in support of the young emotional artist in each page student, as well as help recognize the humanity in each of us!" If you weren't able to attend the show, mark your calendars because The Poetic Voices' Open Mic Night is here to stay, maybe even become an annual event for the Page community!
Arthur Jones '18 (left) and Naima Said '17 (right).