Would You be OK Dying Today? The Answer from Former Victim of School Shooting and Current Page Student
It was just an average day for Katarina Anthanasiou. Well, more than average, as it was her brother's birthday, and it was Valentine's Day of 2018. Her brother was a junior at the time and she was a sophomore. After growing up in Pennsylvania, Kat moved to Parkland, Florida. At 2:20 on that day, her life changed. She was sitting in sixth period at Marjory Stoneman Douglas High School when she heard something. She thought it was possibly a computer cart being knocked over. She and her fellow classmates also heard cheering. However, the cheering was not really cheering. It was screaming.
"Maybe today's the day," one of her classmates joked. Everyone laughed, but then suddenly they heard the fire alarm go off. It shut off prematurely, and this was the first sign that the situation was real. Her teacher told the students to sit on the ground by the wall while she put up a piece of paper on the door's window. In the meantime, a 19-year-old former student of the high school was walking through the halls, making his way through the building. Kat was on the second floor. 
Sitting on the ground, Kat had a startling thought: "If I die today, would I be OK with that? No." She realized that there was more for her to do in life. The shooter walked through the floor that she was on but did not enter her classroom. Instead, he made it to the third floor and tried to hit through a window with his gun. Unsuccessful in his attempt to shatter the glass, he made his escape. The shooter was arrested merely a few hours later and eventually charged with the murder of 17 people, putting him in jail for 65 years. As students evacuated, Kat found her brother, and her mom came to pick her up. She did not know any of the victims personally, but her older brother did. Now, Kat looks back at the shooting and realizes that she has learned a great deal about the world and herself.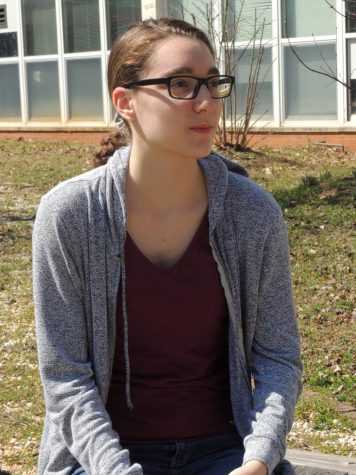 This year, Kat is graduating from Page. She moved to Greensboro after finishing her junior year at MSD. After the shooting, Kat realized that she wanted to "create things for people." While she is going to UNCG for Biology, she is interested in engineering, writing, and drawing. "I want to actually contribute to the world," Kat stated. When asked how she feels about people joking during lock down drills or about school shootings, Kat said that she may feel peeved, not angry, but she understands where they are coming from. At one time, she may have reacted the same way as those who have never experienced what she went through. Kat thought that the teachers at MSD were great, but the administration was much more dysfunctional. When the school promised security, no major actions were taken, and there was no preparation for what took place on that day. While Kat's account of February 14 at her high school was alarming and should not be taken lightly, there is always a silver lining to things: one cruel person's actions turned another person, and possibly more, into someone who has an important goal in life. After her involvement in the shooting, she decided that her goal would be to help mankind by bringing happiness to those who cross paths with her, Katarina, and the great things that she has to contribute. 
Kat's senior year, like the many others at Page and across the world, was cut short because of the pandemic, but that's not stopping her. Neither did her experience on February 14, 2018. Someone once said, "great difficulties may be surmounted by patience and perseverance." Kat is a living testament to this because of her perseverance through many different battles.