Killer Win Leads to Unfortunate Loss in Women's Soccer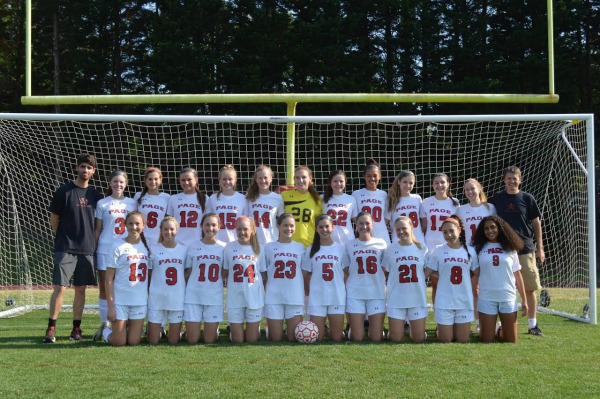 Hang on for a minute...we're trying to find some more stories you might like.
The first playoff game was held on May 10 at Page's Kirby Stadium as the Pirates were hosting the Hopewell High Titans. Each with two goals Tatum Neff, Caroline Fitzgerald and Cailynn Friddle led the Pirates in a 9-0 win to head to the second round of playoffs. When asked how he  thought the team did and what he thought they could fix to be able to succeed in the second round against Charlotte Catholic, Coach Pielow said, ''We did good. I mean, we scored in our first goal 18 seconds into the game. We were up 3 nothing in the first 8-9 minutes of the game.  Charlotte Catholic is an aggressive team and to beat them we would have to fix our aggressiveness and expect them to be aggressive." Unfortunately, the Pirates lost in the second round of playoffs, ending the season. It was a hard fought game, as all goals were scored in the second half of the game.  With one goal, Tatum Neff led the team but failed to make the come back as the game ended in a 2-1 loss. The Pirates finish with a record of 18-3 over all and a record of 9-1 in their conference.  Tatum Neff, with 24 goals and Keyera Wynn, with 17 goals led the Pirates in goals this season. When asked how he thought the team did overall, Coach Pielow said, "We did pretty good. We only lost 3 games the whole season out of 21 games, we also have a lot of talent coming back next year. Seniors Kameryn Purdie, Cameron Kiser, Caroline Ferner, Mary-Mac Porter, Hannah McCurry, Claire Michaels, Virginia Billings, and Taylor Purdie are going off to see what life holds for them after high school. Great season Pirates!